Reserve Properties has officially announced its newest project on Ossignton Avenue, just north of Queen Street West (109 Ossignton Ave). RAW Architects have designed 109OZ, an angular 6 storey soft loft development (85 units), as well as 105 feet of street-level retail. Accentuated by recessed balconies, the façade will be highlighted with varying colours (co-designed by suite buyers), allowing for a unique exterior personalization.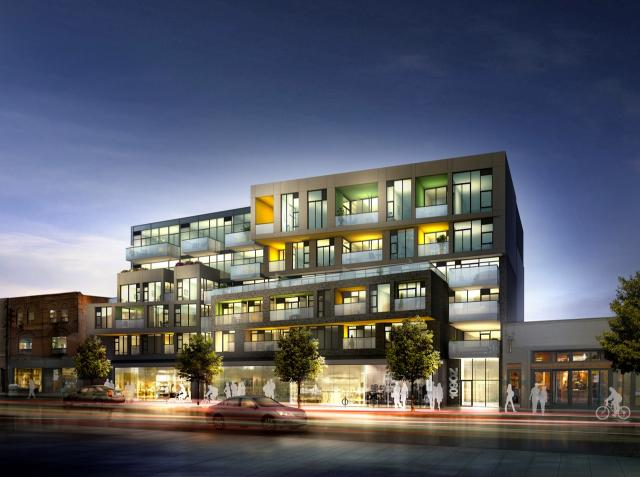 109OZ Lofts – 109 Ossignton Ave
The building will be heavy on material and light on glass, as opposed to the many new condo developments in Toronto. Zinc and dark brick will cover the façade, to add an interesting contrast to the surrounding historic brown brick structures, as they age and 109OZ blends into the neighbourhood. Its interior will be designed by II By IV Design Associates.
109OZ will embody the eclectic spirit and creative culture of Ossignton Village, a community with discerning taste. Adding to Ossignton's dynamic street line and character, this project will offer a contemporary design that appears to be four intimate structures. "We wanted to create a built form that really suited the eclectic rhythm and dimensions of the street," says Shane Fenton VP of Reserve Properties.
"Staggering storeys back and forth as you move up the building provides a variety of angles and gives each element its own identity," says lead architect Roland Rom Colthoff of RAW. "Dark brick, zinc and glass materials used on the façade further enhance texture, while mimicking the memory of the existing lot division."
"With 109OZ we really wanted to capture the essence of the local attitude and diversity of people who live there," says Dan Menchions of II BY IV Design Associates.
"We know from our recent success with Motif Lofts & Towns on Ossington that this is a very savvy neighbourhood when it comes to design. We wanted to create a project that local residents would appreciate and represents where design is going," says Shelley Fenton, President of Reserve Properties.
109OZ Lofts will be located in one of Toronto's most vibrant neighbourhoods with great restaurants, bars, shopping and numerous art galleries.
109OZ will offer 1 bedroom, 1 bedroom + den, 2 bedroom, and 2 bedroom + den units, ranging in size from 500 sq ft to 1200 sq ft. Prices will be starting in the high $200,000 range. Amenities will be on the 2nd floor, but no details have been released as to what it will contain.
There will be a VIP Agent Preview Launch Event later this month. It will be a priority opportunity to view floor plans, pricing, and provide advance access to a purchasing appointment.
>>Click here to register for this event, or if you are interested in any other Toronto condo or loft development.
Source: Urban Toronto
Casey Ragan
"Toronto's Condo Authority"