Design has arrived in midtown Toronto. A hot new vision in design at Redpath and Roehampton, an exciting urbanism in the Yonge and Eglinton neighbourhood. 155 Redpath will be an extraordinary landmark residence. 36 storeys punctuated with large, offset balconies and vivid brush strokes of colour. Modernism in the truest sense of the word, a bookmark in the story that is today's Toronto.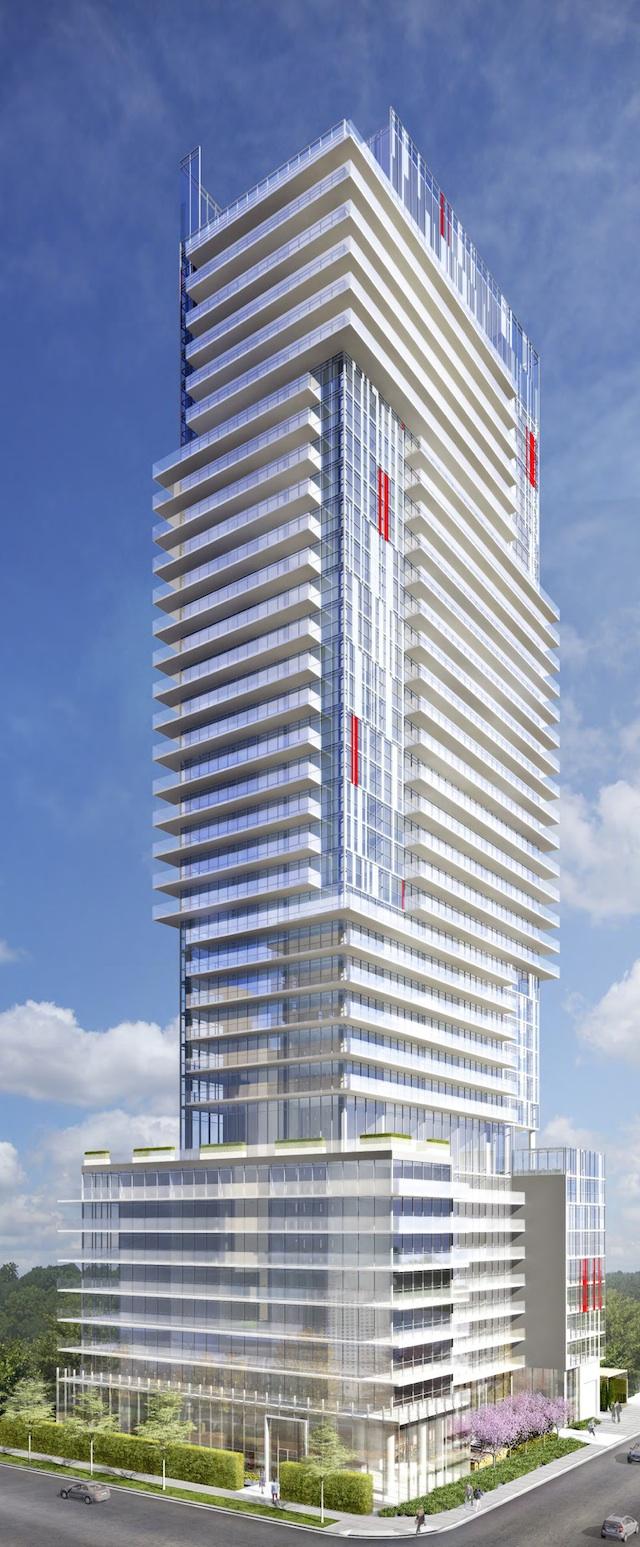 155 Redpath
The magic of Yonge and Eglinton:
Public Transportation – Subway and future LRT connects you to anywhere in the city, quickly and easily.
Shopping Paradise – Big chains, small shops, and local merchants.
Green Space – An urban landscape balanced by parks, paths, and tree-lined residential streets, provide lush green landscapes all around.
Walk About – Everything close by, and it's downtown you crave, the TTC is right outside your door.
Good Tastes – Fine dining, cafes, fast food, and everything else available to satisfy your taste buds at Yonge and Eglinton.
155 Redpath is the intersection of vitality. With a walk score of 98/100 and a transit convenience score of 94/100, it is about as close to perfection as that any neighbourhood could be.
The Eglinton Subway Station and the Yonge Eglinton Centre is just minutes away, with a myriad of shops, restaurants, and bars on Yonge, Eglinton, and Mount Pleasant.
Within the next 5 to 10 years, the urban scene at Yonge and Eglinton will transition from fantastic to unbelievably amazing. In the future, you'll be able to zip out to Pearson on the LRT Transit system. Imagine, from front door to runway in just 25 minutes. The Yonge and Eglinton Centre is undergoing a multi-million dollar renovation with more shops and a roof-top park. On the south west corner of Yonge and Eglinton, another multi-million dollar project is proposed for a totally brilliant new development, and just a couple of blocks away from 155 Redpath, Loblaws is planning a 40,000 square foot store.
Yonge and Eglinton will become a tourist landmark comparable to Yonge and Dundas Square.
Condo Sales at Yonge and Eglinton
The Yonge and Eglinton neighbourhood has consistently been a hot spot for real estate sales. For over a decade, homes and condos in the neighbourhood have sold faster and better than almost any other area. According to the latest Toronto Real Estate Board market report, condos at Yonge and Eglinton sold 6 days faster than the overall city average, including downtown, and they sell closer to their asking price than homes in the rest of the city (98% of list price compared to 96% for central Toronto).
155 Redpath will be 470 magnificent suites created by: Broccolini Construction Management, architectsAlliance, Johnson Chou Inc. interior design, and NAK Design Strategies landscape architect.
List of Amenities:
Lobby library with indoor and outdoor reading rooms, professionally-equipped fitness centre, Yoga studio/deck, fire pit and water features, salon, billiards room, infinity-edge swimming pool, sunning desk, outdoor barbeques, private cabanas, and lounge with a bar.
See Toronto Star Arcticle on 155 Redpath
Casey Ragan
"Toronto's Condo Authority"