When buying a smaller condo your space is limited. It can be definitely worth it, because of all the amenities in the building and within walking distance. Condos are conveniently located in urban areas that make the lifestyle very enjoyable.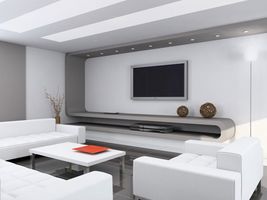 Most people think that living in a smaller place is difficult, but that's just not the case. Furniture designers and interior designers have adapted to the high demand for condo living, and have come up with endless possibilities to maximize your condo's space.
Here are 5 tips for maximizing your condo's space:
1) Paint your condo a neutral colour like white, beige, gray, or ivory. Neutral colours allow the eye to naturally explore the room, rather than focus in on a vibrant colour. If you want to spice things up, you can choose a more vibrant colour for one feature wall (choose a wall deep into the space, far from the entrance).
2) Choose a slim sofa for your living room. You probably won't be seating more than three or four on your sofa, so you don't need one that's deep and long. A neutral coloured sofa would also be favourable, with some throw pillows that match your feature wall (a great way to brighten up the room).
3) Coffee tables can double as storage. Storage is always something to consider when purchasing a condo, so it's important to to take advantage of all open spaces.
4) If you have musical instruments, consider hanging them up. A simple hook or hanger will free up some extra square footage, and you will also have a beautiful piece of wall art.
5) Folding furniture can create a contemporary vibe in your unit. Some furniture designers have released lines of folding furniture that you can hang up in your closet when not in use.
>>Click here to contact me if you want to buy or sell a Toronto condo or loft
Casey Ragan
"Toronto's Condo Authority"