Urban Toronto forum member has shared a video of ten months of the L Tower construction, compressed into ten seconds (30 days/frames per second starting in July 2011). These time lapse videos put Toronto and development into a whole new perspective.
>>Click here to view the video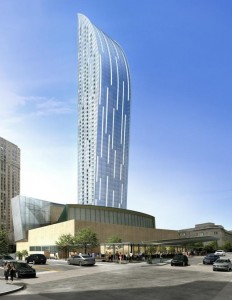 L Tower
Now under construction at south east corner of Yonge Street and Front Street in the heart of downtown Toronto (2 The Esplanade), The L Tower is the evolution of 21st century living. An iconic landmark designed by celebrated architect Daniel Libeskind, the L Tower is 58 storeys (600 suites), with high-end luxurious features and finishes. The interiors will feature signature Munge Leung designed kitchen cabinetry, engineered hardwood flooring, stainless steel kitchen appliances, granite kitchen countertops, marble bathroom countertops, and 9 – 10 foot ceilings. The L Tower's spectacular amenities will include a catering kitchen, library, private cinema, lounge, gym, swimming pool, spa facilities, games room, guest suite, and a 24 hr concierge.
Suites range in size from 500 sq ft, to 2400 sq ft.
Parking is $45,000 (for 2 bedroom units and above), and lockers are $5,000.
Maintenance fees with be $0.48/sq ft.
The tentative occupancy date is November 2012.
Developer: Cityzen, Fernbrook Homes, Castlepoint Architect: Daniel Libeskind, Page + Steele Interior Designer: Munge Leung Design Associates >>Click here to contact me if you are interested in this project, or any other Toronto condo or loft development (new or resale) Casey Ragan
"Toronto's Condo Authority"