A new ripple is emerging along the Toronto waterfront. Aqualina at Bayside (located at 2 Bonnycastle St) is at the forefront as the first condominium residence in the Hines master planned Bayside Toronto Community. Tridel and Hines is in the pre-construction phase of this vibrant community, which will represent the Toronto Waterfront's single largest revitalization endeavour along the city's inner harbour. Designed by internationally acclaimed Arquitectonica of New York City, the architecture of AQUALINA is formed in a series of prismatic blocks stacked over and next to each other descending towards the lake, with suite windows and balconies oriented to maximize waterfront and city views. A shimmering glass cube closest to the lake begins on the 7th floor terrace and houses the premium Signature Collection Suites and Penthouses. Without question, this condominium is destined to become the premier waterfront address in the city.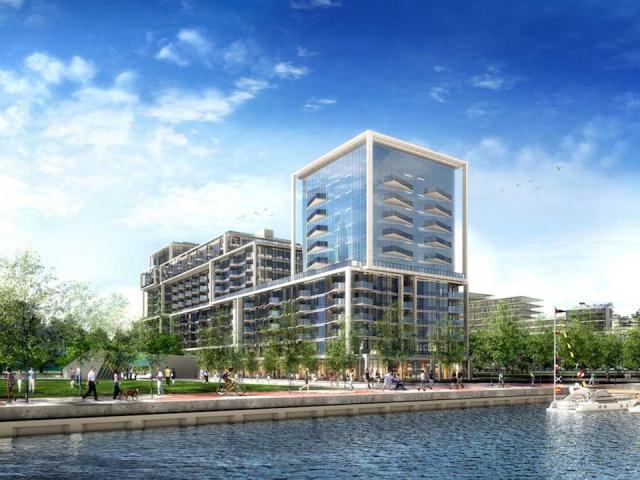 Aqualina at Bayside is a result of the creative vision of Arquitectonica's New York office, an award-winning architectural firm based in Miami. The project is being led by the firm's partner Bernardo Fort-Brescia who is bringing an innovative and distinctive geometric approach to the exterior design of the 13 storey condominium.
Aqualina will be defined by a series of distinctive prismatic cubes made of glass and steel, featuring facades accented by angled fenestration and balcony designs intended to maximize views of the Toronto cityscape and lake.
The condominium's interior public spaces and amenity areas will be designed by the award-winning Canadian firm of II BY IV Design Associates. Landscape design for the condominium will be led by West 8 + DTAH the award-winning team also responsible for the design of East Bayfront's public realm including the streetscapes, water's edge promenade and boardwalk.. West 8 + DTAH is also leading the design for the revitalization of Queens Quay which includes a new south side promenade, off-street Martin Goodman Trail and integrates the proposed Light Rail Transit line through the community.
Aqualina Bayside will contain 363 condominium suites, ranging from 1 bedroom to 3 bedroom residences designed with families in mind. Suite sizes will range from 560 sq ft to just over 2,100 sq ft.
Among the distinctive features of Bayside, is what is likely to be the fastest residential Internet service in the city. Delivered by Beanfield Condoconnect's ultra-high speed broadband fiber-optic network, users will enjoy wireless speeds up to 100 megabits a second.
Remaining suite inventory: 1 bedrooms (starting at $331,500), 1 bedroom plus dens (starting at $451,500), 2 bedrooms (starting at $602,500), and 2 bedroom plus dens (starting at $698,500).
Estimated occupancy is Fall 2016.
>>Click here to contact me if you want to buy or sell a Toronto condo or loft
Casey Ragan
"Toronto's Condo Authority"