The Toronto Real Estate Board reported 5,984 condominium apartment transactions through the TorontoMLS system in the second quarter of 2013. This result was down by approximately 6% in comparison to the second quarter of 2012. The number of active listings at the end of the second quarter was up year-over-year by less than 2.5%, while new listings were down by slightly more than 4%.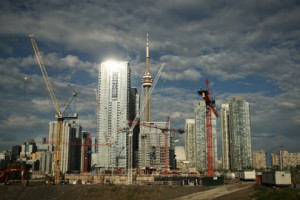 "The GTA condominium apartment market has been the subject of much discussion recently, due in large part to the number of new units completed over the past two years and the number of units that remain under construction. With this in mind, it is important to point out that the condo market has fared quite well. Even with sales down and the number of active listings up, the average selling price has found support at current levels," said Toronto Real Estate Board (TREB) President Dianne Usher.
The average selling price for condominium apartments in the second quarter was $347,896 – up by 1.7% compared to the average of $342,148 in the second quarter of 2012. The MLS® Home Price Index (HPI) apartment benchmark price was also up by approximately 1% over the same period.
"While active listings were up year-over-year in the second quarter, it is interesting to note that new listings were down over the same period. If the number of new listings continues to drop in the second half of 2013 and the sales situation improves, we could see the pace of condo price growth accelerate as market conditions tighten," said Jason Mercer, TREB's Senior Manager of Market Analysis.
Click here to see Full Report [pdf]
Casey Ragan
"Toronto's Condo Authority"