The residents of CityPlace — a large, densely populated section of former railway land now climbing to the sky with multi-tower condo development — are a new face of the city.
They're young urban professionals who want to live and work downtown, even if it means moving into busy buildings that some say feel more like university dorms.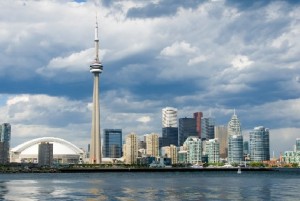 The first results of the 2011 census show that a small downtown pocket — from Lake Ontario, north to Front St., west to Bathurst St. and east to Spadina Ave. — has seen explosive growth.
The census echoes what everyone's been saying: That Toronto has gone vertical.
In 2006, the population in the area that includes Harbourfront and the old railway lands stood at 1,106 people. As of last year that had skyrocketed to 5,911 — a 434 per cent increase.
That's more than triple the average population density of about 4,150 people per square kilometre for the rest of the city.
Condos present a more affordable option for first-time buyers such as young adults and new immigrants — two groups naturally drawn to the buzz of big cities, said Adrienne Warren, senior economist and manager with Scotiabank.
Empty-nesters looking to downsize are also driving the condo craze.
Meanwhile, demand for land is pushing developers to build vertically, encouraged by government policies designed to curb sprawl. Multi-unit dwellings now make up roughly half of all new housing stock.
Toronto's population rose 4.5 per cent from 2006. Spikes in several neighbourhoods probably had to due with vertical growth, experts say.
Condo-heavy Liberty Village experienced 143 per cent growth; the Bay Street corridor saw a 57 per cent boost.
Pauline Lierman, a senior research analyst with Urbanation said that with downtown becoming more built-up, future growth will probably take place farther north. For example, the population has doubled in the corridor between Sheppard and Finch Aves. Since 2006.
In Etobicoke, the area near Sherway Gardens mall has seen a 46 per cent increase, from 4,641 people in 2006 to 6,792 last year. Right off the Gardiner Expressway, it's a convenient location for residents with cars to either zip into the city or head to the 905.
>>Click here for full article.
Source: thetorontostar.com – Jayme Poisson, Staff Reporter