An income property can be a terrific investment, but protecting that investment requires finding a responsible tenant.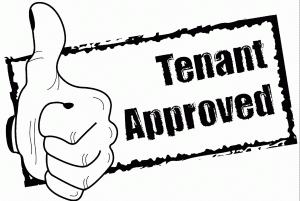 How can you give yourself the best possible odds of leasing to a "keeper"? In short, with references, credit checks and your instincts. Right off the bat, make it clear in your ad that applicants will be carefully screened. This alone will scare off most people with a less-than stellar rental history.
References from an applicant's previous landlords are key, but try to verify that the reference is a bona fide landlord and not a friend or relative playing the part. Ask very specific questions. Unfortunately, some landlords are reluctant to speak ill of a tenant because they're so anxious for that tenant to leave.
Pay attention to time frames in the applicant's rental history – if there are gaps or frequent moves, ask why. Employment and personal references should also be thoroughly checked out. And, while it may feel awkward, asking for photo ID is completely legitimate.
In addition to supplying you with the applicant's credit history, information from a credit check can be used to ensure that the applicant is being straight in regard to their rental history and job situation.
Many landlords rent to family, friends and friends of friends because it seems like a safer bet than renting to a stranger. You may decide to forgo the credit checks and references for people with whom you're very close, but it's important to be extremely clear about your expectations and to have them written in a contract.
Even so, if you shrink at the thought of telling your best friend to turn down the stereo at night or that you can't take one more late cheque, you might be better off listing in the classifieds.
Word of mouth can be a good way to get leads on tenants, but it's no substitute for checking references.
From the start, there are clues to an applicant's suitability. Does he have a pleasant telephone manner and show up on time? Does she bring all the background information you asked for? Don't fall for elaborate excuses for not having first and last month's rent or give the place to someone because her sob story wrings your heart. Trust your instincts: Pay attention to niggling doubts, even if everything looks great on paper.
What to do if, despite all due diligence, your tenant turns out to be the wrong fit? Landlords can evict tenants for failure to pay rent, illegal activity, damage to property or repeated noise complaints. The process often involves applying to the provincial landlord and tenant board, which will hold a hearing to determine whether eviction is in order. This may seem like a bit of a hassle but, in most cases, it's a fair, effective and civil way to resolve the situation.
One final tip: Maintain a clean, attractive rental space. To have your pick of tenants, you have to show them something worth signing for.
Source: Marnie Bennett – The Ottawa Citizen
Casey Ragan
"Toronto's Condo Authority"