Up until mid-March 2020, Toronto real estate was on track for a busy spring market. As the pandemic hit and social distancing measures took effect, the resulting business closures and greater economic uncertainty lead to a dramatic (albeit temporary) downturn for home sales across the country and around the world. Interestingly, Toronto's decline in transactions was proportional to the decline in new listings hitting the market, which meant market balance didn't change a whole lot in many regions. Seller's markets were still seller's markets, inventory was still low, and the competition was still fierce. Even during the pandemic, Toronto had multiple-offer scenarios. What prompts multiple offers, and how do you win a bidding war?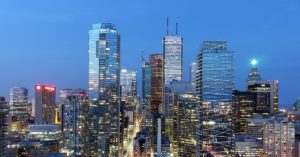 What is a seller's market, anyway?
In a seller's market, there are more buyers than there are units available for sale. The combination of limited inventory and high demand often puts upward pressure on prices. Units typically sell quickly in a seller's market, and multiple offers on a listing are more likely, giving the seller the upper hand.
How to start a bidding war on your unit?
When market conditions favour sellers, it means demand is usually up and inventory is down. With few listings on the market, the seller and listing agent will set an offer deadline by which interested buyers must submit their offers. The seller then reviews all offers, comparing the best ones. When some of the offers are close, the buying agents will go back to their clients to check if they want to up the ante, and if they do, a bidding war ensues.
How do you win a bidding war?
Sellers can only hope to receive multiple offers on their listing. However from the buyer's perspective, losing a unit in a bidding war can be heartbreaking. "Winning" is relative to the buyer's goals. If the only objective is to get a particular unit, then offering the highest possible purchase price with no offer conditions is the best way to achieve that. However, most homebuyers have other things to content with, such as budget or a specific timeline for moving and a required closing date. Then there's the unit itself – does the buyer plan to fix-and-flip it, or are they seeking a move-in-ready unit?
Remember that just because someone outbids your offer doesn't necessarily mean you should volley back.
Here are some strategies to help you make a smart bid and if all goes in your favour, a wise purchase.
Know your budget. As a homebuyer, a mortgage pre-approval should be step #1, regardless of market conditions. This informs you of how much you can spend on a unit, and guarantees your mortgage interest rate for up to 120 days. This number is your hard limit. Do not exceed this amount. Furthermore, having a mortgage pre-approval means your offer, when you're ready to make one, won't be conditional on financing, since you already have the pre-approval in place.
Aside from knowing your budget, also consider what the unit is really worth. Recent comparable sales stats will give you valuable insight on the price of comparable units in your building. This can help you determine your offer amount, and whether it even makes sense to compete against other bidders.
Eliminate your offer conditions. In a seller's market, having no conditions in your offer can work in your favour. In a seller's market and especially in a bidding war, a clean offer is more likely to win.
How do you avoid a bidding war?
Short-term strategy: One trick to winning a bidding war is to avoid it altogether. Make an offer before the unit hits the MLS system.
Long-term planning: The spring and fall real estate markets see the most activity under normal conditions, with buyers out in droves and bidding wars bubbling at the surface. If you're not in a hurry to buy, minimize your competition and possibly even price by shopping in the "off" season.
Do your homework. You've determined how much you can afford to spend, right? And you know what the unit is worth based on the comparables. You also know what the unit is worth to you, based on your lifestyle, budget and future employment prospects. Make a bid that's reflective of all of these considerations. Before jumping on the bidding bandwagon, have confidence that you're getting a good deal.
When asking how do you win a bidding war, remember that the spoils don't always go to the highest bidder. Know when to walk away. Even in a seller's market, the perfect unit is out there, waiting for you to find it.
If you want to buy or sell a Toronto condo or loft, contact Casey Ragan at 416-486-5588 or by email at casey@remaxhallmark.com
Casey Ragan
"Toronto's Condo Authority"