It's that time. You have decided you are ready to sell your condo, and make a change to a new place.
How can you make yours standout to potential buyers?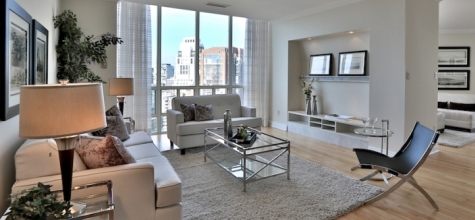 When listing your condo for sale there are many simple tasks that can increase its value, and attract as many showings as possible.
Your goal is to have your condo charm, entice and capture the attention of buyers within the first five seconds of them walking through the door.
It doesn't take much to make a big impact, but most spaces need a refresh before hitting the market. You want to get a good return on your investment so don't spend more than 1-3% of the asking price.
Here are some more basic condo staging tips to get you started.
De-clutter
In a small space it is easy for a few items to give the appearance of clutter. You will need to remove all the extras and get down to the basics.
Go through all your closets and drawers make a pile of things you haven't used or worn in months.
Donate what you no longer need to charity and put the rest in a box for your new home. Don't worry you can survive for a few weeks without most things.
When the clutter is gone your condo will look twice the size and be more appealing to potential buyers.
Fresh coat of paint
The key to catching the eye of buyers is to have your condo looking fresh, large and bright. Stick to a neutral, pale grey, beige or even a white. Paint all the walls in your condo the same shade to make it seem more spacious.
The staging
Pack up any oversized or worn out furnishings and replace them with smaller 'condo size' items. You want to show off a spacious and welcoming environment.
Light it up
Keep everything sharp, vibrant and crisp. No one wants to live in a dark, dull space. Open up your curtains and make sure all the lights are on when potential buyers are walking through. Your condo will look lovely and larger.
Kitchen and bathroom
It's no secret that these are focal points when selling a home. Both these rooms will need a good cleaning and perhaps a little renovation.
Has your shower curtain started looking drab or the glass spotted and old?
These tips will help you optimize your space to its full potential without a lot of work and on a limited budget. When people walk in your unit they should immediately envision themselves living there.
If you want to sell your Toronto condo or loft, contact Casey Ragan at 416-486-5588 or by email at casey@remaxhallmark.com
Casey Ragan
"Toronto's Condo Authority"