Connected to the PATH system, Ice Condominiums at York Centre is just steps from the financial core, Maple Leaf Square – Canada's only fully integrated residential, sports and entertainment complex, Air Canada Centre and Union Station. Residents will also enjoy living adjacent to the waterfront and to the city's most exclusive marinas, Rogers Centre, CN Tower and the Entertainment District. The city surrounds ICE with world-famous restaurants and exceptional shopping – it's unquestionably the destination of choice for sophisticates from around the globe.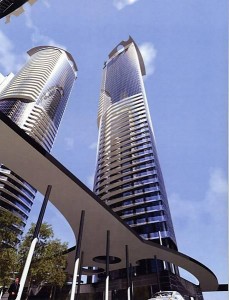 ICE Condos
Amenities:
> ICE Spa – Gym/Yoga/Work > Out Area with cardio and weight-training equipment > Plunge Pool, Sauna and Steam Room > Children's furnished playroom > Lounge with dining room and full-service kitchen > Business Centre with board room and meeting rooms > 24 Hour Concierge > Massage Room > Lounging outdoor terrace with BBQ
Features: > Nine foot ceilings > Choice of hardwood flooring, porcelain or ceramic in entry foyer > Individually controlled heat pump heating and cooling system > Easy Access by underground PATH system to UNION STATION, Maple Leaf Square, Air Canada Centre, Rogers Centre & CN Tower
1 Bedroom + Den (18th floor) $ 420,000
Asker Model – Click HERE to View Floor Plan
· 590 sq ft · North Exposure $3,000 towards Final Closing Costs – Glass Cabinets – Hardwood Floors in the living room, den, foyer, kitchen – Granite kitchen countertop – Marble countertop in the bathroom – Backsplash in White Crystalo Glass Tile
2 Bedroom + Den (38th floor) $ 599,999
Hamina Model – Click HERE to View Floor Plan
$2,000 towards upgrades
· 746 sq ft · South Exposure · Parking · Locker
Address: 16 York Street Toronto, ON M5J 2P1Builder Name: Lanterra Developments
Contact me, for more information.
Casey Ragan
"Toronto's Condo Authority"