Developer Camrost-Felcorp is introducing Imperial Plaza to midtown Toronto, located on St. Clair Avenue West (in Deer Park), between Yonge Street and Avenue Road (111 St Clair Ave W). Originally built in the mid-1950s as the headquarters of one of Canada's largest and most successful companies, Imperial Oil Ltd. No expense was spared in ensuring it was a modern-day corporate palace and a masterpiece of mid-century International Style modernism.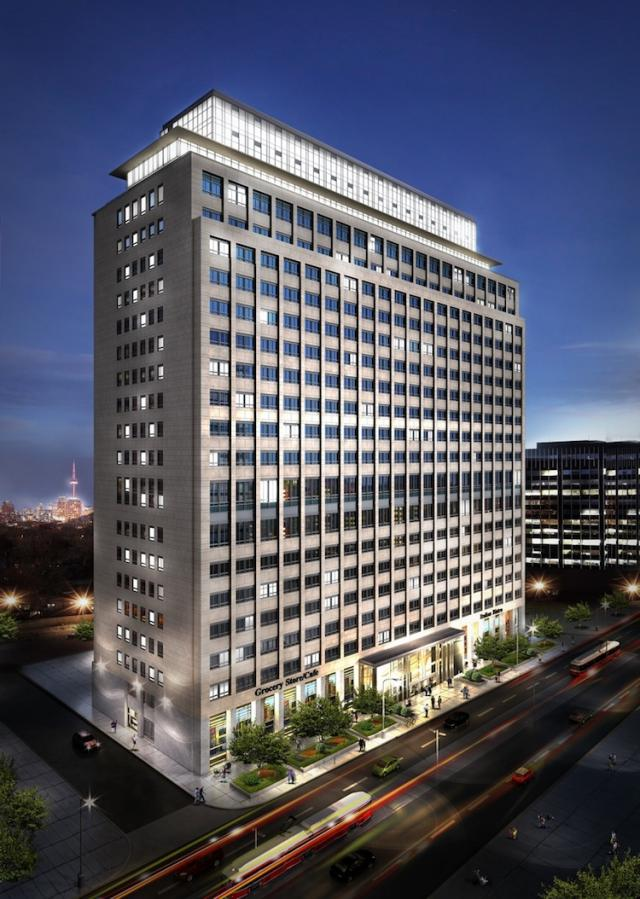 Imperial Plaza
Only the best materials and the most advanced building technologies were used in its construction—and in its lobby, one of Canada's greatest artists was commissioned to create the largest and most ambitious mural ever conceived in the country at the time.
"The conversion of such a significant building into a state of the art condominium residence creates a rare opportunity in Toronto for select residents to call an iconic building 'home'," says Rod Rowbotham President, Onespace Unlimited, the architecture firm leading the conversion.
Onespace Unlimited and Hariri Pontarini Architects are moving this unique address into the 21st century. Imperial Plaza residents will have access to one of the largest and most impressive condo amenity footprint in the city. The indoor/outdoor 40,000 sq. ft. amenity area will feature a music recording/rehearsal sound studios, golf simulator, games room, fitness club with change rooms, squash courts, Yoga studio, aerobics studio, swimming pool and hot tub.
Imperial Plaza is a 23 storey tower, with 273 residential suites. Suites range in size from 530 sq ft to 4800 sq ft.
Imeperial Plaza has 2 storey lofts starting at $489,000, Imperial suites from the mid $300,000s, Rockefeller Suites from $850,000, and Sky penthouses starting at $3.85 million.
The builder is going to be releasing the 2 storey lofts (with up to 17 foot ceilings) at an Exclusive Broker Sales Event, with special incentives for my clients. Get in before the public!
>>Click here to contact me if you are interested in attending this VIP Exclusive Broker Sales Event, or if you are interested in any other Toronto condo or loft development.
Source: Urban Toronto
Casey Ragan
"Toronto's Condo Authority"