"The architecture of spectacle now taking shape on Toronto's waterfront will be nothing less than a stage set for the 21st-century city. It began in 2010 with Sugar Beach and Sherbourne Common, but has since been taken up by the private sector, most notable with Pier 27, easily one of the most playful condo complexes ever seen in these parts.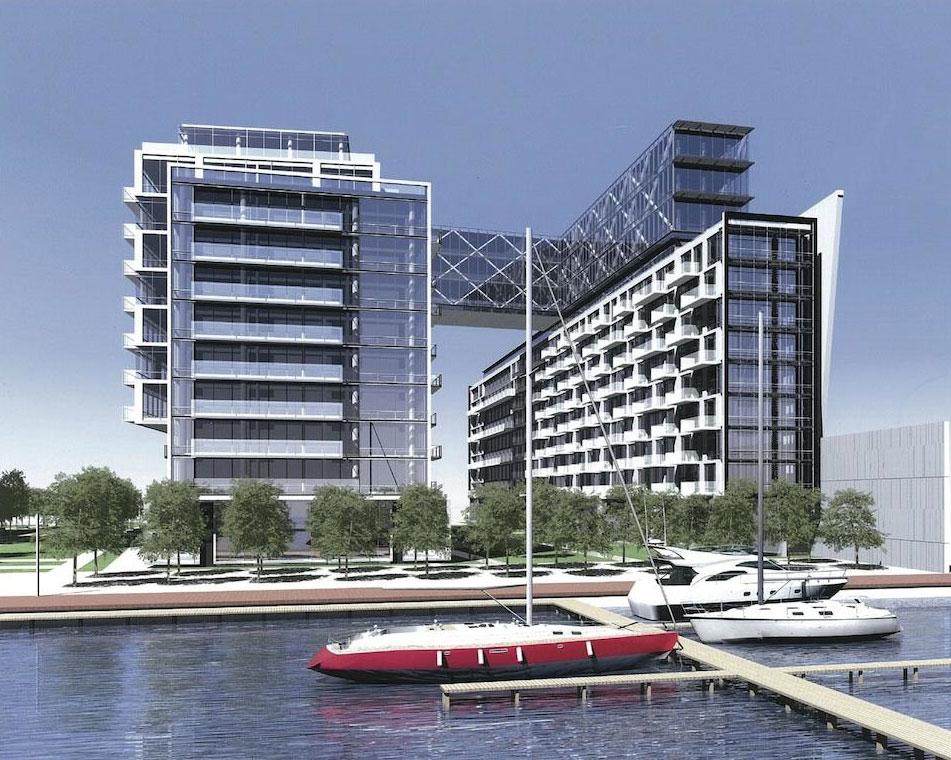 In themselves, the four 14-storey glass slabs extending on a north-south axis perpendicular to the shoreline are admirably clean, crisp and to the point. But then there are the "bridges" that sit, horizontally, on top, almost as if they had been left there by some careless child giant playing with building blocks. In reality, the bridges are three-floors tall and filled with penthouse suites.
If the new development is an indication, architect Peter Clewes of architectsAlliance has reached the point in his career where doing something different means thinking well outside the box, or more accurately, the rectangle.
The question isn't just how to remake the transparent tower for the umpteenth time, but how to accommodate density in bold, engaging yet practical ways. On this site more than almost any other, the pressure to resist the highrise is intense. After the outrage about the "concrete curtain" farther west on Queens Quay, and the fact this is the foot of Toronto's main drag, Yonge Street, everyone was hoping for a midrise solution.
In Pier 27 they got it. Clewes' solution — a tower laid on its side — avoids height, adds density and turns heads. It also creates a sense of civic spectacle that stands out all the more in the architectural monoculture that prevails throughout much of downtown Toronto."
Pier 27 literally turns conventionality on its side. Compared to its neighbours, it represents a radical departure, a display of unabashed architectural cheekiness. It's not quite the "flying tabletop" Will Alsop did for the Ontario College of Art and Design, but it's right up there."
>>Click here for the full Toronto Star article
Source: Christopher Hume, Toronto Star
>>Click here to contact me if you want to buy or sell a Toronto condo or loft
Casey Ragan
"Toronto's Condo Authority"