CP24.com reporter Chris Fox recently posted an article describing how the Princess of Wales Theatre (located at 300 King St W) in the Entertainment District, will be torn down and replaced with three high-rise condos. David Mirvish claims the project will be "unlike anything that has ever been built in Toronto."
"The plan, overseen by famed Toronto architect Frank Gehry, was outlined in a letter released to the media Sunday.
In it Mirvish said the project would span a full city block between John Street and Ed Mirvish Way to the east and King Street and Pearl Street to the North.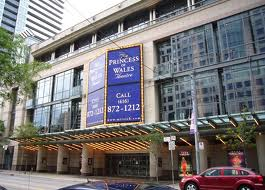 The towers themselves, which Mirvish described as "sculptures by one of the greatest artists of his generation", will each rise 80-storeys above the ground.
"Our vision is a project that will encompass three distinct and remarkable residential towers that will be unlike anything that has been built in Toronto. They will be grounded by stepped podiums that will house a large new public gallery called the Mirvish Collection, a new campus for the OCAD (Ontario College of Art and Design) University, and planted terraces that will create a green silhouette overlooking King Street," Mirvish wrote. "The design will create a new profile for the arts and entertainment district at the streetscape and in the skyline, add significantly to the John Street Cultural Corridor and provide new and enhanced public spaces."
The Princess of Wales Theatre was first built in 1993 and is one of four theatres owned by the Mirvish family, the others being the Royal Alexandria Theatre, the Ed Mirvish Theatre and the Panasonic Theatre.
In his letter Mirvish said he had hoped to spare the Princess of Wales Theatre but wasn't able to do so without impacting the integrity of the project.
He said in an effort to preserve the legacy of the theatre much of its artwork will be saved and the theatre itself and the late Princess Diana for whom it was named for will be "memorialized" in the new development.
"If there were a way of completing this project without removing the Princess of Wales Theatre, we would have followed it," Mirvish wrote. "But after careful consideration and many different plans, I decided not giving (Frank) Gehry a full canvas on which to work would have meant compromises that would have lessened the power of the project."
According to Mirvish the new project will be completed in phases with the first being the demolition of a warehouse sitting at King Street and Ed Mirvish Way.
The entire project will take three to seven years to complete.
Mirvish is expected to speak about the plan during a press conference scheduled for Monday."
>>Click here for the full article and CP24 video
Source: CP24.com, Chris Fox
Casey Ragan
"Toronto's Condo Authority"