Urban Capital Property Group is offering VIP Broker discount prices for a limited time, for several units in Phase 2 of the River City project. There are also units still available in Phase 1 as well. River City Lofts is the first private sector development project in the West Don Lands. Designed by Saucier + Perrotte and ZAS Architects, River City's elegant, roomy suites give you all the space you need to live, work, play, cook, entertain – and feel perfectly, comfortably at home every day. River City has unusally large layouts, gracious terraces, rolling doors, floor-to-ceiling windows, custom kitchens and staircases. River City also includes two storey townhomes.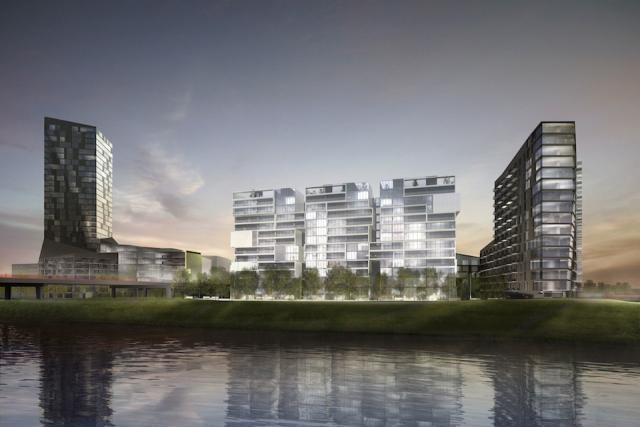 River City Lofts
Phase 1 is a $300 million project including 350 suites in two buildings (located at 701 King St E), one along King Street East (16 storeys) and the other along River Street (6 storeys). These buildings with be connected by a 3 storey enclosed bridge (on floors 4,5 and 6), similar to the industrial design of warehouse buildings in New York, Chicago and Montreal. Phase 1 features include:
• single and double storey lofts and penthouses with 9′ ceilings • exposed concrete ceilings and columns • solid matte black rolling doors • engineered hardwood floors • oversized windows • balconies, french balconies and terraces • year-round heating and cooling four-pipe fan coil system • open concept kitchens with stone countertops • stainless steel kitchen appliances • executive 24 hr concierge service • double storey lounge and party room, with a kitchen and a bar • billiard table and media lounge • separate indoor/outdoor lounge and party room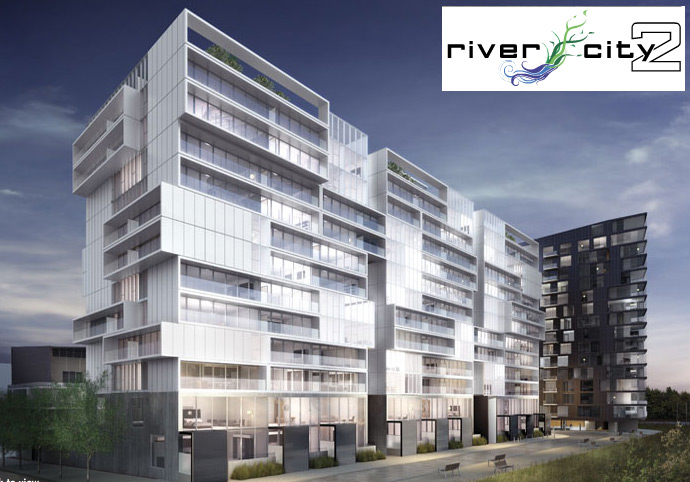 River City Lofts – Phase 2
Phase 2 will be three 12 storey glass mini-towers (248 suites), connected on each floor with fully glazed passageways. Units will be constructed to look like boxes jutting in and out, and pivoting left and right. Phase 2 will face the Don River Park prairie, and will be a dramatic contrast to the dark, edgy exteriors of Phases 1 and 3. Phase 2 features will include:
• high-design lofts with 9′ ceilings (penthouses have 10′ ceilings) • exposed concrete ceilings and columns • solid matte black rolling doors • floor-to-ceiling windows • some with a light transparent frit to maintain the white luminescent appearance of the building's exterior • engineered flooring • optional built-in desks with above-desk Internet and electrical outlets • balconies and terraces, accessed by "lift and slide" patio doors (penthouses have a large roof-top terraces with a BBQ gas hook-up, electrical outlet and water bib) • open concept kitchens with stone countertops, and kitchen island (where shown) • stainless steel kitchen appliances • all-in-one condensing washer/dryer • square designed bathroom tubs and/or custom showers with spa-inspired wood slat detailing • frameless glass shower enclosures for separate showers • ceramic bathroom flooring • 15,000 sq ft courtyard shared between Phases 1 and 2, with a heated outdoor lap pool and private dining area • two fully equipped exercise rooms • furnished guest suite
Available suites in Phase 2 range in size from 400 sq ft to 1579 sq ft.
Prices start at $242,900 and go up to $989,900.
Maintenance fees will be approximately $0.44/sq ft per month. All utilities will be metered and paid separately. Parking spaces are $35,000 (available for suites over $359,900).
The tentative occupancy date for Phase 2 is May 2014.
>>Click here to contact me if you are interested in this project, or any other Toronto condo or loft development.
Casey Ragan
"Toronto's Condo Authority"