The Toronto Real Estate Board reported 10,180 sales in June. This represented an increase of 15.4%, compared to June 2013. New listings were also up compared to the same period in 2013, but by a lesser annual rate. This means that competition between buyers increased in June.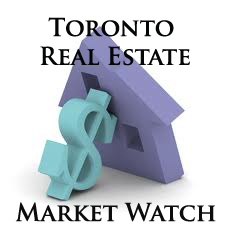 "Home buyers in the Greater Toronto Area are confident in their ability to purchase and affordably pay for a home. Generally speaking, buyers feel that ownership housing will be a good investment over the long term. This is why we continued to see increases in home sales in June for all major home types across the GTA. Given the degree of pent-up demand in the market today, I would expect to see sales growth continue through the summer," said Paul Etherington, Toronto Real Estate Board president.
The average selling price for June transactions was $568,953, representing an increase of 7.4% compared to June 2013. The strongest price increase for the GTA as a whole was for semi-detached houses, with the average price up by 9.7% year-over-year. The pace of price growth for condominium apartments was also strong at 6.8%.
"With less than two months of inventory in many parts of the GTA, it makes sense that we continued to experience very strong price growth in June. This is especially the case for low-rise home types like singles, semis and townhouses. Strong price growth for these home types will continue through the remainder of 2014. Despite higher inventory levels, the condominium apartment market segment has benefitted from enough buyer interest to result in above-inflation price growth," said Jason Mercer, TREB's Senior Manager of Market Analysis.
>>Click here for the full report
>>Click here to contact me if you want to buy or sell a Toronto condo or loft
Casey Ragan
"Toronto's Condo Authority"