Owning a condominium allows you to enjoy all the benefits of a fine home, with the added benefits of amenities, enhanced security, increased affordability and ease of maintenance. Some of the amenities include 24 hour concierge, high-tech security surveillance, recreation and fitness facilities, plus the convenience of not having to shovel snow or cut grass.
Peace Of Mind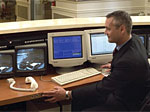 Access to most communities is controlled either by a concierge in the lobby or an attendant in a gatehouse. Twenty-four hours a day, seven days a week. Security personnel not only monitor who comes and goes, but they also oversee a network of video cameras strategically positioned throughout your community. In addition, there are two-way voice communication stations for emergencies.
Garage & Home Security
Residents receive a personal remote-control transmitter or a car transponder to enter the underground parking and a computerized access-card for entry to common areas.
Intrusion alarms can be personally encoded and are a standard feature in most suites. Ground-floor units may also be outfitted with interior motion detectors and magnetic contacts on exterior doors and windows. Another feature you may never notice is extra-bright lighting in the underground garages and elevator lobby areas with glass windows that allow a clear view into parking areas.
Buildings are designed to contain a fire should it occur, while alarm panels are located throughout the building. All stairwells and elevator shafts are pressurized and receive a separate supply of fresh air to provide a safe and smoke free exit. Garbage chutes and lower garbage rooms have heat detectors and there is a sprinkler system that activates automatically should the need arise. Common hallways have smoke-and-heat-sensors, a fire hose and a direct contact firefighters' telephone.
Condo Lifestyle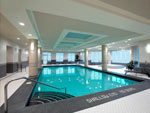 Recreation Centre
You will have complete access to all community recreational facilities. When looking for a condo, make sure you have a careful look at the amenities to ensure that you are aware of all additional lifestyle features.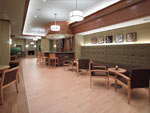 Entertainment & Entertaining
Condominiums include some of the most elaborate and extensive recreation facilities imaginable, so whether you're hosting a dinner for eight, a movie night for 10, or a party for 120, there's a room for you.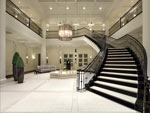 Lobby & Landscaping
Lobby's are meticulously decorated and welcome you with elegance and sophistication. Professional landscapers create a beautiful and lush outdoor environment.
Quality Living Environments
Special attention is paid to any areas where noise or vibration may cause a problem. Creating "quiet" begins with the exterior walls which are sound insulated and incorporate specially designed noise-reducing windows.
Service areas and garage doors are strategically located and concrete walls separate most suites. Garbage chutes have sound insulation wrapped and contained within a sound deadening block enclosure. Building machinery, such as central boilers or chillers, are usually installed in areas that minimize sound transmission and on isolation springs to eliminate noise. Pipes and conduits are also sealed with a specialized rubber sealant.
Air Quality and Temperature
Air quality is maintained by large delivery fans which provide a never-ending supply of fresh filtered air to all floors and each suite. One of the added benefits is near-elimination of cooking smells in the common areas. Additional hallway fans provide better distribution of air, quietly and efficiently. In-suite vertical fan coil units or heat pumps allow you to accommodate seasonal adjustments and personal preferences.
Builders are concerned with your year-round enjoyment and comfort in your unit. Every community is assessed for efficient energy management and as a result, they design the best systems appropriate to each building's environment. Heating, air conditioning and hot water supply can then be regulated to meet heavy and light usage periods while reducing your energy costs overall.
To learn more about the Indoor Air Quality of Green Building, click here.
Casey Ragan
"Toronto's Condo Authority"