The One Condos is a new 80 storey proposed development at the southwest corner of Yonge and Bloor. The design by global architects Foster and Partners is tall, brawny and complex.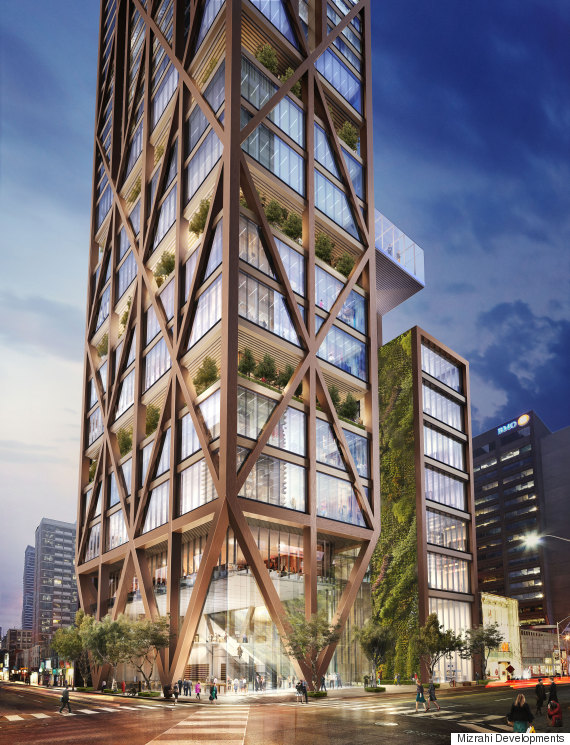 The project, which developer Sam Mizrahi and the architects presented to a community meeting Wednesday night, would be the third tall tower to rise at the corner. However, in size and architectural character, it would stand out: The proposal places 72 levels of apartments on top of an eight-level luxury shopping mall, and wraps a grid of structural steel outside of its glass skin.
The proposal, which Mizrahi hopes could be finished as soon as 2018, would have eight storeys of retail shops, 600 parking spots and some 560 residential units. Mizrahi said he thinks the building would put Toronto on the international map.
The tower, if built as planned, would stand 318 metres tall.
For those familiar with Toronto skyscrapers, that's taller than the First Canadian Place tower, the massive (and city council-approved) Mirvish-Gehry towers set to rise from King Street West and the recently finished 78-storey Aura condo located at Yonge at Gerrard St.
Only the CN Tower, at 553.33 metres, would be taller.
>>Click here for the CBC News article
>>Click here for The Globe and Mail article
>>Click here for the Toronto Star article
Source: CBC News / The Globe and Mail / Toronto Star
If you want to buy or sell a Toronto condo or loft, contact Casey Ragan at 416-486-5588 or by email at casey@remaxhallmark.com
Casey Ragan
"Toronto's Condo Authority"