The Well Condos is a new development by Diamond Corp, RionCan, and Allied Properties REIT located at Spadina and Wellington (410 Front St W).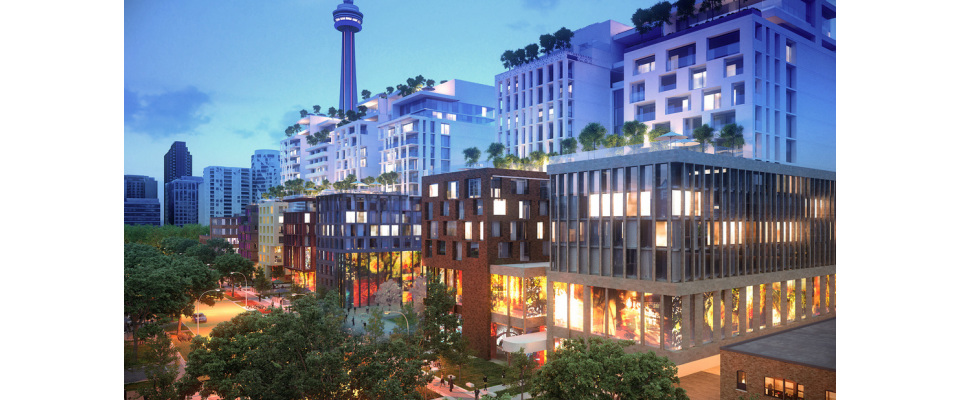 This project is a $1.4 billion dollar development plan proposed to create offices, shops, and residences. The Well will bring you endless amenities. The Well is a one-of-a-kind vibrant neighbourhood, planned for all of the ages.
Spread over seven and a half acres, The Well borders Wellington, Spadina and Front Streets. Visitors, employees and residents will be drawn to its robust retail mix, dynamic amenities, premium office space, entertainment and cultural events. The Well will become a gathering place, reflecting the heart and soul of Toronto, inspiring us and improving our quality of life.
The brilliant, friendly design will boast desirable amenities, like gourmet coffee shops, restaurants and grocery stores. Pedestrians will go about their way along well designed lanes, stopping to rest or chat with a friend at one of the many well positioned seating clusters.
The Well will radiate connectivity. Offering over a million square feet of high-quality, flexible office space, The Well's modern design will make it an ideal centre for businesses large and small, with commanding views of the city and easy access to public transportation, main connections and parking.
If you want to be notified when VIP sales begin for this project, contact Casey Ragan at 416-486-5588 or by email at casey@remaxhallmark.com
Casey Ragan
"Toronto's Condo Authority"