2014 will be a busy year for interim and final closings, for a vast majority of the record number of pre-construction sales that happened several years ago. The Toronto Star interviewed Javier Lirman, the owner of the Toronto moving company Cargo Cabbie. He believes 2014 will be a busy year for him, with all of these new Toronto condo projects closing all of their pre-construction deals.
"A record 20,000 new condos could come to completion across the GTA.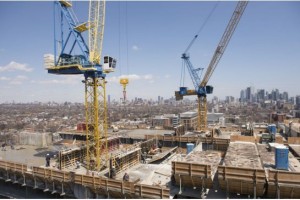 An estimated $25 billion worth of condominiums are under construction across the GTA. A record number of units — development research firm RealNet estimates close to 20,000 — are slated to be completed in 2014 and their owners, or tenants, will move into their gleaming new glass and granite homes.
More than 28,000 condos sold in the preconstruction phase in 2011, the most by far in a single year. Many are unlikely to be completed for another year or so because of construction bottlenecks — a shortage of skilled trades and equipment — that have limited completions to about 16,000 units a year."
>>Click here for the full article
Source: Susan Pigg, Business Reporter for The Toronto Star
Casey Ragan
"Toronto's Condo Authority"